Mr.Chutinant Bhirombhakdi
The President of Thai-Japand Shotokan Karate Association (Thailand)
The President of Thaialnd Karate Federation : TKF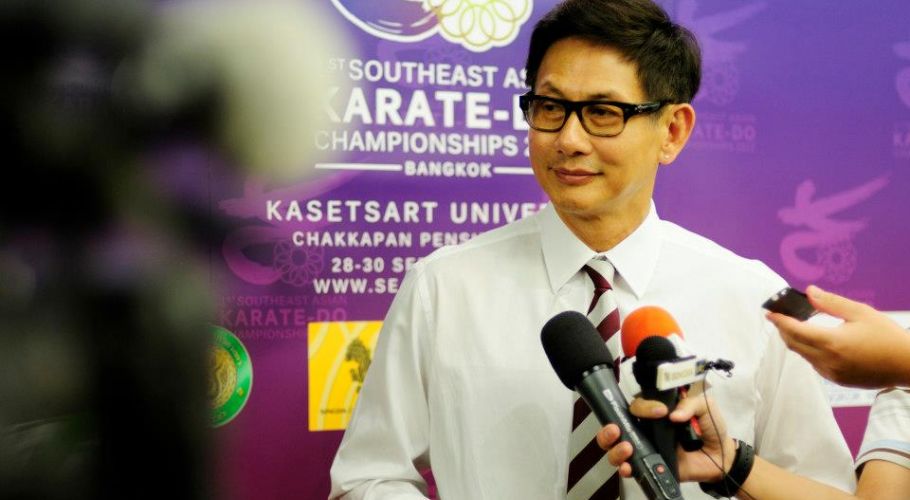 5

th

 Degree Black Belt of Japan Karate Association

Former President of Federation of All Thai Karate-do Organization (FATKO), now Changed the name to Thailand Karate Federation (TKF).


Former President of New England Collegiate Karate Conference

Former President of North American Karate Federation

Former Captain of Boston University Karate Team (1979-1980)

1976: training Karate-do under the teaching of Sensei Kazumi Tabata in USA .

1989: Invited 

Sensei Fujikiyo Omura 

to be the Chief Instructor of Thai-Japan Shotokan Karate Association (Thailand).

The Great Supporter of Karate-do Activities in Thailand.
Personal data
Date of birth April 9, 1957
Parents : Mr. Chamnong and Khunying Supatcharee Bhirombhakdi
Spouse : ML Piyapas Bhirombhakdi
Children :
Miss Chitpas Bhirombhakdi
Miss Nantaya Bhirombhakdi
Mr. Naiyanobh Bhirombhakdi
Experiences
Executive Vice President, Boon Rawd Brewery Co., Ltd
Executive Director, Boon Rawd Trading Co., Ltd., the distributor of Boon Rawd beverages in Thailand
Chairman of the Board, Singha North America Inc., the distributor of Boon Rawd beverage in North America
Director, Siam Piwat Co., Ltd., a property development business and the developer of Siam Center, Siam Discovery and Siam Paragon
Executive Director, Bangkok Glass Industry Co., Ltd., a leading glass bottle producer
Director, Pendulum Co., Ltd., the importer and distributor of leading global watch brands
Other experiences
Advisor to Former Deputy Minister of Foreign Affairs
Governing Board, Cardigan Mountain School, USA.
Advisor, Master's Degree Program in Marketing, Faculty of Commerce and Accountancy, Thammasat University
Social contribution

2005 Honorary Advisor, the Sports Association for the Disabled of Thailand under the Royal Patronage of His Majesty the King
2005 Athletes Team Manager, 3 rd ASEAN Para Games, Manila, the Philippines
2003 – present Honorably Advisor, Senate Standing Committee on Sports
2002 – present Vice Chairman, Skeet and Trap Shooting Association of Thailand
1990 – present Charter President, Thai-Japan Shotokan Karate Association
1989 – 1990 Vice President, Asia-Pacific Union Karate-Do Organizations (APUKO) Technical
1989 Coach for the Thai National Karate Team to 15 th SEA Games, Kuala Lumpur, Malaysia
1988 – 1996 President of Federation of All-Thai Karate-Do Organization
1987 Coach for the Thai National Karate Team to 14 th SEA Games, Jakarta, Indonesia
1981 – present Board Member, Phya Bhirom Bhakdi Foundation
Other experience
2005 Telecast Judge for 2005 Miss Universe 2005 Pageant Competition in
Thailand
Education and training
2005 Certificate, The Role of Chairman Program, Thai Institute of Directors Association
2004 Certificate, Director Certification Program (49/2004), Thai Institute of Directors Association
2003 Diploma, The National Defense College of Thailand, Politics
2001 Certificate, Strategic Negotiations: Deal Making for the Long Term, Harvard Business School
1998 Certificate, Families in Business: From Generation to Generation, Harvard Business School
1984 Certificate, Accounting Directors Seminar Course, Thammasat University
1980 Bachelor's Degree in Economics, Boston University, Massachusetts, USA
1976 Hotchkiss School, Connecticut, USA